Water Heater Repair Services in Delaware County
Water heaters are essential appliances, providing hot water for daily activities such as bathing, cooking, and cleaning. However, like any mechanical system, water heaters can experience problems and malfunctions over time. Feehan Plumbing & Heating provides water heater repairs to address these issues and restore the reliable supply of hot water. Our plumbing experts will assess your water heater's condition, identify the problem, and determine whether a repair or replacement is needed to keep you and your family comfortable.
Common Reasons a Water Heater Isn't Making Water Hot
When it comes to hot water, we rely heavily on our trusty water heaters to deliver that soothing warmth we've grown accustomed to. There are a few common culprits that could be causing this inconvenient issue.
These problems could be:
Malfunctioning Thermostat: If your water heater's thermostat is set too low or is faulty, it won't heat the water to your desired temperature. In this case, a simple adjustment or thermostat replacement might be all that's needed to restore hot water to your taps.
Broken Heating Element: Water heaters typically have two heating elements, one at the top and one at the bottom. If either of these elements wears out or malfunctions, it can result in a lack of hot water. A professional replacement of the faulty element can get your water heater back on track.
Sediment Buildup: Over time, minerals and debris can accumulate at the bottom of the tank, insulating the water from the heating element. Flushing your tank or scheduling regular maintenance can help prevent this issue and ensure optimal performance.
Five-Star Customer Service
When to Repair vs. When to Replace a Water Heater
When it comes to your water heater, it's important to know when it's time for a repair and when it's time for a replacement. At Feehan Plumbing & Heating, we understand the importance of having a reliable and efficient water heater, especially during those chilly winter months. How do you know when to repair versus when to replace?
Repairs
If your water heater is experiencing minor issues, such as a leaky valve or a faulty thermostat, a repair may be all that's needed. These repairs are usually cost-effective and can extend the lifespan of your water heater. Our professional team is skilled in diagnosing and fixing these common problems, ensuring that your water heater is back up and running in no time.
Replacement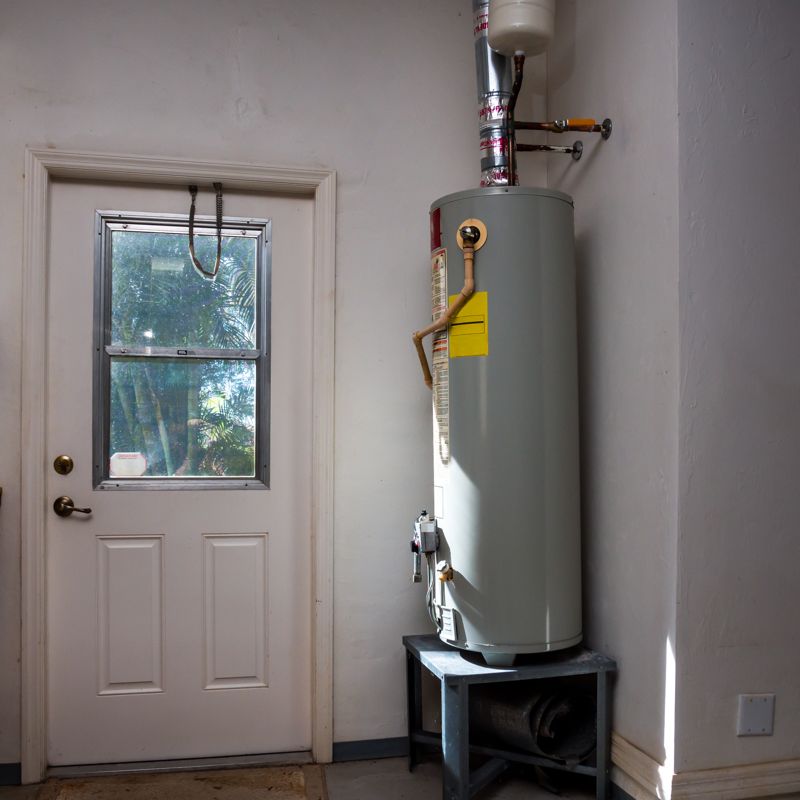 Feehan Plumbing & Heating Is Here to Help
If you're experiencing any issues with your water heater not producing hot water, don't hesitate to reach out to our professional team in Broomall, PA. We proudly serve customers in Delaware, Montgomery, and Chester Counties. We specialize in diagnosing and resolving water heater problems promptly, ensuring your comfort is restored in no time.
Contact us at (610) 795-9327 to schedule an estimate and let us take care of your water heater repairs in Delaware County and the surrounding areas.
"I have worked with Tom Feehan for years, he is one of the most reliable people that I know. When my pipes burst on Christmas day, he stayed in contact and had the problem repaired by early morning on the 27th. I recommend this business without reservation!"

- Amelia W.

"So thankful to Feehan for coming out to troubleshoot and fix my furnace before the huge winter storm. The technician was very informative and had it repaired before it started snowing. Thank you so much!"

- Tomekhia V.

"Feehan Plumbing & Heating came to our rescue when our hot water heater started leaking all over. The plumbers were exceptional and had us all fixed up in a few hours."

- Michelle M.

"Keith came out for a problem that turned out to be a faulty water meter. He was very patient and didn't charge us to diagnose the problem. Definitely calling Feehan back to do follow-up work. Old-fashioned customer service!"

- J C.

"Always quick and efficient! Highly recommend Feehan Plumbing & Heating."

- Sophia M.

"Tommy Feehan not only understood my need to replace our standard water heat with an on demand system, but when the initial wiring did not prove to be sufficient he also sent his prime electrician to replace it!"

- Sara P.

"I had a plumbing emergency with water shut off to my home. I called for emergency service and Keith came within 15 minutes. He was knowledgeable, prepared, and charged me a one-hour minimum, which was a bargain for my emergency!"

- Evan O.

"Colin was on time and explained things in a way that I could understand as a non-plumber. I definitely recommend Feehan if you're looking for a company that is upfront with you and affordable."

- Emily G.