Water Line Repair & Replacement in Delaware County
Clean, flowing water is something we often take for granted in our homes. Typically, water enters our homes through a single pipeline known as the water main. If you've ever noticed discolored water, a decrease in water pressure, or a consistently damp spot in your yard, it's possible that your main water line is damaged.
Dealing with issues related to your main water line requires immediate professional attention. A leaking or damaged main water line can lead to serious problems affecting your home and an unexpected increase in your water bill.
If you've observed any of these issues, don't delay—reach out to Feehan Plumbing & Heating for assistance. We possess the expertise to diagnose and repair water line problems within your home and offer solutions, including underground water line repair for those hidden issues. Your water system's health is our priority.
Protect your home's water supply and plumbing by acting promptly. If you suspect any main water line issues, reach out to Feehan Plumbing & Heating today.
Why Choose Feehan Plumbing & Heating?
At Feehan Plumbing & Heating, we want to change the way you think of water line replacement and repair services. Unlike traditional methods that involve days of work digging up your entire yard, we offer smarter solutions.
We may utilize video camera inspection technology to precisely identify the root cause and location of the problem before we proceed with efficient and cost-effective repairs. Whenever we can, our plumbers will make use of trenchless pipe bursting to minimize disruption to your landscape while providing a low-impact fix for underground water line issues.
Five-Star Customer Service
Deciding Between Water Line Repair or Replacement
When it comes to water line issues, homeowners often find themselves faced with a tough decision: should they opt for water line repair or go ahead with a complete replacement? It's a dilemma that can cause stress and confusion. Feehan Plumbing & Heating is here to help you make an informed choice.
Here are a few essential factors that we consider when deciding whether to repair or replace your water line:
Age: If your water line is relatively new and the damage is minimal, repair might be the more cost-effective option. On the other hand, if your water line is aging or has suffered extensive damage, replacement might be the best long-term solution.
Conditions: The local climate and soil conditions can impact the durability of your water lines.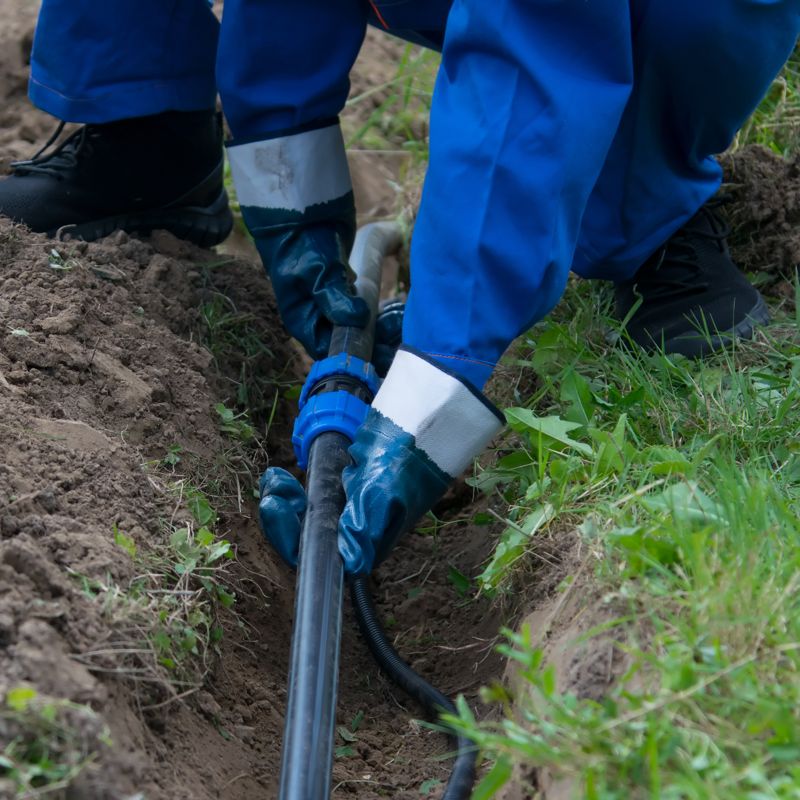 Benefits of Our Water Line Repair Services
Swift Service: We aim to complete water line repairs in a day or less, saving you time and hassle.
Non-Invasive Techniques: Our methods are non-invasive, sparing your lawn, driveway, and surroundings from unnecessary damage.
Preserving Your Property: We prioritize maintaining the cleanliness and integrity of your property throughout the repair process.
Cost-Efficiency: By avoiding extensive digging and labor, we help you save both time and money.
Quality Assurance: Our repairs meet industry standards, and we stand by our workmanship and parts, offering you a comprehensive guarantee.
Our advanced plumbing technology enables us to utilize special pipe relining techniques, effectively creating a new pipe inside the old one. We are committed to getting the job done right the first time and ensuring your satisfaction every step of the way. When it comes to water line repair, Feehan Plumbing & Heating is your trusted solution!
Our plumbers can swiftly diagnose and resolve water line problems, ensuring your home stays safe and dry. Contact Feehan Plumbing & Heating at (610) 795-9327 for expert assistance!
"I have worked with Tom Feehan for years, he is one of the most reliable people that I know. When my pipes burst on Christmas day, he stayed in contact and had the problem repaired by early morning on the 27th. I recommend this business without reservation!"

- Amelia W.

"So thankful to Feehan for coming out to troubleshoot and fix my furnace before the huge winter storm. The technician was very informative and had it repaired before it started snowing. Thank you so much!"

- Tomekhia V.

"Feehan Plumbing & Heating came to our rescue when our hot water heater started leaking all over. The plumbers were exceptional and had us all fixed up in a few hours."

- Michelle M.

"Keith came out for a problem that turned out to be a faulty water meter. He was very patient and didn't charge us to diagnose the problem. Definitely calling Feehan back to do follow-up work. Old-fashioned customer service!"

- J C.

"Always quick and efficient! Highly recommend Feehan Plumbing & Heating."

- Sophia M.

"Tommy Feehan not only understood my need to replace our standard water heat with an on demand system, but when the initial wiring did not prove to be sufficient he also sent his prime electrician to replace it!"

- Sara P.

"I had a plumbing emergency with water shut off to my home. I called for emergency service and Keith came within 15 minutes. He was knowledgeable, prepared, and charged me a one-hour minimum, which was a bargain for my emergency!"

- Evan O.

"Colin was on time and explained things in a way that I could understand as a non-plumber. I definitely recommend Feehan if you're looking for a company that is upfront with you and affordable."

- Emily G.